These days, businesses need to work harder than ever to ensure continuous sustainability and profitability. Therefore, an all-hands-on-deck approach is critical for seamless operations and to ensure timely deliverables. Furthermore, as individuals work on more innovative devices, work is no longer limited to the office workplace. A pre-Covid CBS news report reveals that around 59% of Americans also check their emails while on vacation. Apart from cutting into well-deserved rest time, this also means the time that business owners could spend planning business growth gets diverted into high-volume work with low returns. Hence, it is essential to understand what a virtual assistant does and why it can be extremely helpful and beneficial for small and midsize business owners.
What Are the Attributes of a Virtual Assistant?
A virtual assistant is a resource that can support businesses in tasks that would otherwise take up all their time and attention. Virtual assistants are also invaluable to growing businesses that need to focus on building their brands. Instead, owners of these businesses may spend a lot of time monitoring critical deliverables and day-to-day operational details such as managing communication and ensuring that all bills are paid on time.
Because businesses need skilled and competent assistants to support everyday operations, it may prove to be daunting when hiring resources. Choosing the right fit for your business may require an understanding of what it is that your business would benefit from.
A virtual assistant can support businesses with professional assistance, regardless of whether they have physical office space or where these premises are located.
Typically, a virtual assistant can support business operators and owners with assistance in areas spanning both professional requirements and assistance such as bill payments, document organization, etc. Some functions that one may expect from a virtual assistant across diverse industries could be:
Assisting businesses with online research and documentation
Carrying out all the tasks that involve writing and communicating
Helping with social media communication, compiling information, summarizing, etc.
Assisting with special events, such as exhibitions where businesses may require assistance with networking and preparation of communications for these events
Hiring the Right Virtual Assistant
Here are some questions that can help businesses make the right hiring decision for virtual assistants: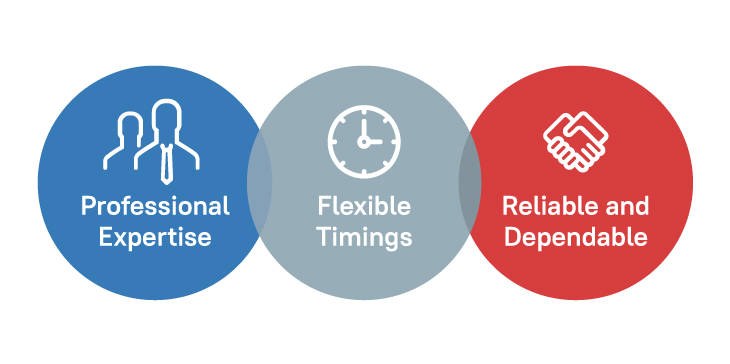 #1. What does your business need from a virtual assistant?
Outlining the virtual assistant's business needs and expectations can help finalize the hiring decision. This can include defining goals, both short-term and long-term ones. By defining goals, you can improve the hiring process by helping candidates understand their expectations.
#2. Will the virtual assistant need to pitch in with handling everyday operations?
At times, fast-growing business owners are left with no time to spend on themselves. This issue can be solved by hiring a virtual assistant who can take on some of the load, especially tasks that may be time-consuming yet critical, such as recording transaction entries accurately, etc.
#3. Does your business need a professional who can multitask?
A competent virtual assistant can multitask without affecting productivity. This could translate into taking over day-to-day tasks so that owners and business operators are free to pursue business-building activities such as building a sales pipeline or contacting new clients.
#4. Do you need someone proficient in particular skills, such as operating computers?
A virtual assistant can assist with tasks such as calendar management, scheduling meetings, and even creating presentations for the business. However, these expectations and requirements must be clearly outlined and communicated beforehand to ensure the hired professional does not fall short of expectations.
#5. What are the work hours of the potential virtual assistant?
Your virtual assistant will need to work per your business requirements. This means working the entire week when needed, or if the total workload is smaller, putting in fewer work hours without unnecessarily charging the business.
#6. How will your virtual assistant communicate?
Virtual assistants must be connected to the business to ensure seamless communication. Aside from being available on calls and via email or messenger lines, virtual assistants are expected to regularly keep business owners and operators updated on their work status. This could be achieved through end-of-the-day status reports, for example.
#7. What are you willing to pay the virtual assistant?
This can tie back to the working hours of the virtual assistant. Depending on your business needs, you could either extend the working hours of your virtual assistant or scale them back to save on costs. Clarifying expectations around minimum time requirements can help the business optimize the assistance and the virtual assistant to deliver maximum value.
Why you need professionally trained virtual assistants
For most businesses, there is no one-size-fits-all solution. This means businesses need tailored, customized solutions that can help them address their immediate requirements and contribute to the larger goal of business-building. At Analytix Solutions, we have worked closely with multiple businesses across diverse industries, including retail, hospitality, medical equipment providers, etc. This has helped us build high-quality work and develop best practices around our deliverables.
Next Steps